Founder of Science of Man and Holy Order of MANS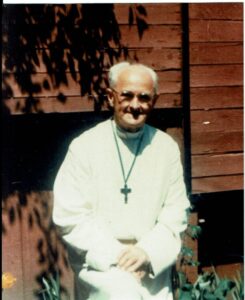 It is often supposed that a Master Teacher must come from India or the Far East, and so would be beyond the reach of most Westerners in this present lifetime. But by the grace of God, there did emerge in our own experience a Master Teacher who was both Christian and universal in what he taught and demonstrated of the timelessness of truth.
Professionally, Father Paul–as he came to be known–spent most of his lifetime working as an electrical engineer while quietly doing spiritual work in his spare time. Not until the sixties, when he was past sixty, did he work openly as a teacher. Many were drawn to him by the spiritual presence that was strongly felt by anyone near him, and his selfless and disciplined life. An ordained minister, he founded a church that was not attached to any other church, and with his wife Rev. Mother Ruth Blighton, founded a  seminary and non-sectarian order, [see more below] and did much work in helping the needy by feeding, housing, clothing and assisting them in finding jobs. He brought many young people off the streets and into a better life. He believed and taught that spiritual principles should be translated into action.
Father was a master in the use of the Word and taught the wisdom of the ages in simple language and form, as one whose every striving was for the good of those who heard him.
   Father Paul and Mother Ruth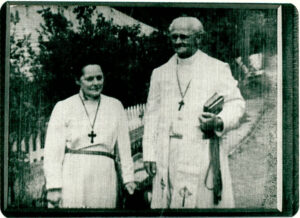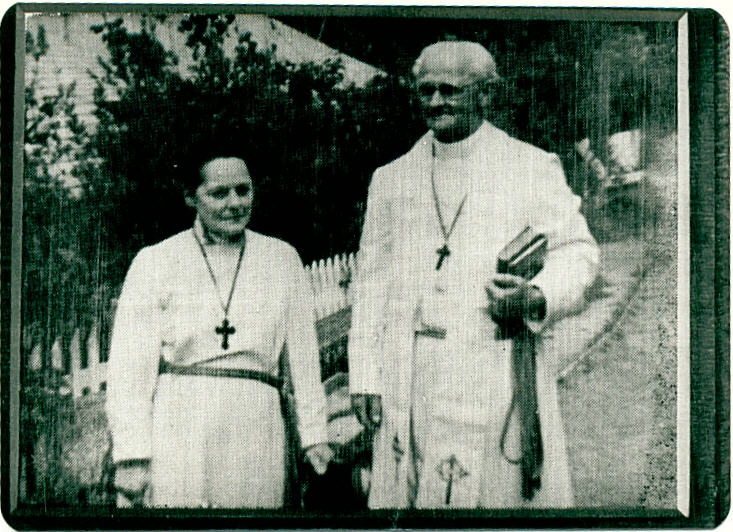 Rev. Earl Blighton and Mother Ruth Blighton began an initiatory, mystical Christian order, the Holy Order of Mans, in 1968 in San Francisco.  They started with literally nothing but their faith, from a previous group called the Science of Man.  Due to their efforts, a vital service and teaching order evolved with centers in many cities across the country and in Europe and Japan.  Its "international headquarters" was on Steiner Street, and the vowed brothers, sisters and priests quickly became known to many in the cities where they were located for their charity and dynamic brand of Christianity, which transformed many lives.
Father Paul and Mother Ruth, as they came to be called, revived the elements lost over time to the Christian religion:  the spiritual initiation of Illumination by the Light of Christ and finding of the God-Self, which transforms individuals and awakens them to responsibility for the advancement of all mankind.  To quote Father Paul:  "… what I want to bring home to you is that this order was not made yesterday, and it was not something that I just wanted, or the other fourteen men wanted.  This order is taken from very ancient times and its entire basis and creation brought forward."
Below:  Father Paul with Murshid Samuel Lewis, first American born Sufi Master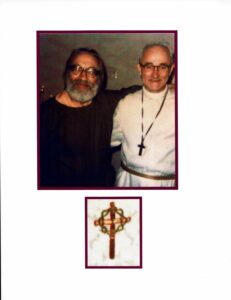 The Order recognized all faiths as springing from one Creator, and studied and respected all that taught the Universal Path to enlightenment through prayer, meditation and selfless service.  Classes on the Bible and Tree of Life were offered free to the public.  A discipleship program offered lessons by correspondence with opportunities to attend seminars for in person instruction.  Christian Communities for families and others not under vows were initiated in 1972.
Here is a sampling of articles that appeared  in newspapers across the country: "Stolen Christmas Gifts Replaced" about the Order's Christmas program for the needy [Dec. 1971 San Francisco Chronicle], "Unique Ministry Told" [Albuquerque, N.M.], "Order of MANS:  Honolulu Center: 'There's one place here where somebody new in town can get free meals and temporary lodging.  It is at a center in Waikiki operated by the Holy Order of Mans.'", Order of Mans serves capital [Montpelier, VT Aug. 1972], "A 'New Approach' To Religion" [Aug. 1972 Charleston, WV Daily Mail], "Holy Order of Mans takes new approach to Service" [Nov. 1972, Columbia, MO Tribune], "The Semi-Monastic Life" [Nov. 1972, S.F. Examiner], "Members Give Lives in Service" [December, 1972 Denver Post], "The Order of MANS Lights the Way" [April 1973, St. Petersburg, FL Times], "Coed Monastery" [Newsweek, Oct 1, 1973],  "Order of Mans Thrift Shop follows teachings of Paul" [Aug. 1974 Chicago Tribune]…
Among the many services the Order offered to the city of San Francisco during the late 1960s and all of the 1970s:
street missions every evening in the Tenderloin, North Beach and Chinatown,

not

to proselytize, but to offer counseling and assistance only if approached (this was also done in every center, even in the cold of winter in places like Fargo, ND!),
The Order opened the first shelter for women in the city, Raphael House, at Gough and McAllister (still operating as a family shelter today on Sutter Street),
Fillmore aid station for men opened in the Spring of 1971, operating until the city of San Francisco began their urban renewal project in the area.
A youth hostel at 101 Steiner St operated from 1975 until the mid 1980s.
The Order opened a coffee shop in San Francisco in 1968 on Haight St. called  Brother Junipers.  Sandwiches, cookies and coffee were sold at prices just to cover costs, and any local artists could exhibit their paintings for sale on the walls.  The brothers and sisters who worked there wore brown robes.  It was a very pleasant and peaceful refuge.   A few years later another coffee shop was opened by the Order in NW Portland, OR called The Wheel of Fortune.  
Other youth hostels and coffee shops were opened in the mid-1970s, as well as some thrift stores and other service projects in the various cities in which the Order was located.
Mother Ruth continued to lead the Order after Fr. Paul's transition in 1974, but gradually allowed the leadership to pass to other, younger Teachers.  None of these had the charisma and spiritual authority of themselves to hold such a diverse body together.  One of them 10 years later converted the remaining membership to Orthodox Christianity.
In the mid-1970s, Mother Ruth quietly reactivated the original organization that Father Paul had begun, the Science of Man, as a way to preserve the vitality and spirit of the original organizations.  She moved to Oregon in the mid-eighties to live among some of her spiritual "children, " until her transition in 2005.   She continued to function as a spiritual guide to many who came to see her or wrote for help.  Her peaceful but powerful presence touched thousands of lives, although unknown to the wider world.